Redistricting
---
Every ten years, the state of Minnesota goes through a process called redistricting. The process is a re-drawing of the boundary lines which divide up the state into areas represented by our elected officials, like US Congresspeople or state lawmakers. These divisions, called districts, are adjusted based on the US Census and other surveys, to make sure that they have equal populations and representation in our government. 
At the federal level, the apportionment process in the U.S. Constitution outlined a process to make sure each state has Representatives in the House of Representatives roughly proportional to its population. Laws passed since have modified the apportionment process as the number of states and number of representatives changed.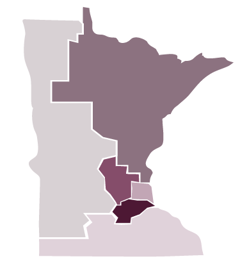 Within Minnesota, the state constitution and statutes identify what districts need to be redistricted and the processes for redistricting that happen. Within each state, district boundaries are drawn so that approximately the same number of persons are contained within each congressional district in the state to give all persons within the state equal representation. These offices include both chambers of the state legislature, county commissioner districts, and city wards, among others. 
In Minnesota, new maps of these district lines were produced by a panel of five judges and released to the public on February 15, 2022. 
The Secretary of State's office isn't involved in drawing the new maps, but the new maps do affect voters!

Depending on where you live, you may now be in a different district with a different polling place than you were in past elections. Ahead of Election Day, make sure to check where you vote with the Secretary of State's pollfinder tool. 
See more information at the Legislative Coordinating Commission's GIS office: https://www.gis.lcc.mn.gov/html/redistricting.html